Applicable Products : IJCAD2015 Build.150805 or later、IJCAD Mechanical、IJCAD Civil、IJCAD Electrical
The following is the explantion for the error when you start up the DWG file by double click.
* This for IJCAD2015 Build.150805 or later version.
   If you use IJCAD2015 Build.150213 version, please use the update version.
 

Try to change the association of DWG file as follows : 
 1. Select the DWG file by right click and select "Open by program" / "Select the predetermined program"
 2. Select "IJCAD Launcher" from the list and click OK.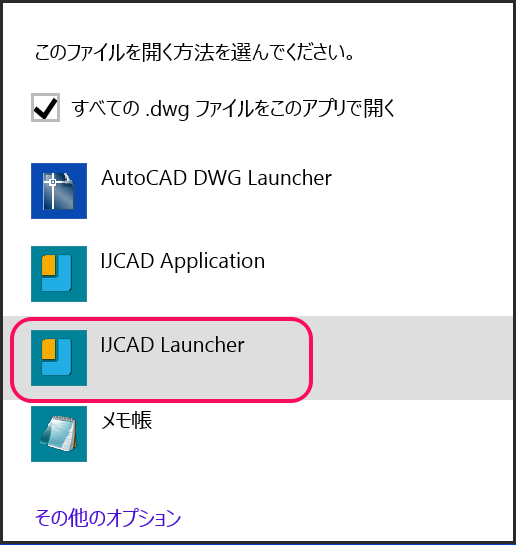 The drawing will open and the new association will be activated, when you double click the DWG file next time. 
 <NOTE> 
At the process "2." above, confirm that the check mark is selected in the following items :
in case of Windows 7    : "Always use the selected program when opening this kind of file"
in case of Windows 8.1 : "Open all the .dwg file by this program"