Applicable Products: IJCAD 2015 / 2016
IJCAD is developped with 32 bit / 64 bit version program from IJCAD 2015, and it is possible to apply both program according to the PC environment. When the CAD system close problem occurs by the instability error on IJCAD 32 bit version, the following case may be resolved by changing the environment to use 64 bit version.
CASE
  1. Working simultaniously with big amount of drawings, editing and output (print, export, copy&paste) 
  2. Working with more than 100MB DWG file or 500MB DXF(ASCII) file
  3. Working simultaniously with many other application softwares
  4. Working with the drawing data using huge raster image data, such as thousands x thousands pixel data
The major problem of the instability of IJCAD caused by these cases is due to the lack of memory space.
32 bit application can not handle more than 2 GB memory, then if the system is required to work with more than 2 GB memory, IJCAD may display instability error and close the software. If it is necessary to work with more than 1500 MB memory, it is recomended to use 64 bit version.  
* Please refer to the following site to check your memory situation.  
   IJCAD が消費しているメモリ量を確認する。 
If more than 2 GB memory is required to work with, you had better work on the better environment to escape from the memory error, such as OS 64bit + IJCAD 64bit + more than RAM 4GB.
The memory size should be considered by the amount of drawing necessary to work simultaniously with, or the number of other software to work simultaniously with.
Estimated memory size for IJCAD is approximately 1.5 times more than "current memory amount", displayed on the memory management window when IJCAD is running with user's normal DWG file open. 
(This memory recomendation is only for your information, because it is very easy to change the memory requirement status according to each job.)
The following example shows that IJCAD uses 3458 MB memory.
In this case, the requirement of the memory is simply calculated as 3458 * 1.5 = 5187MB.
Then we can consider around 5.2GB is necessary for IJCAD and the reasonable memory size might be more than 8 GB.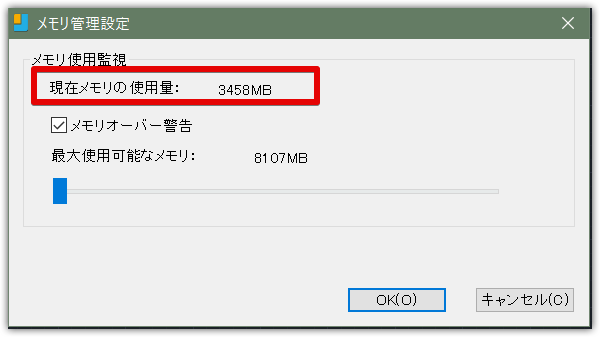 The maximum memory size for each PC is necessary to inquire to each PC factory.
Reference